| | | |
| --- | --- | --- |
| | | |


Testimonials


Illusions by Vick is an astounding magician who amazed the Oracle Sales Team
of around 150 people in DC on the Odyssey Cruise Line.
When I told him our theme and that this event was to Kick-Off off to raise moral
and excitement for this time of the year – he took my ideas to the next level
and worked out an entire show catered to our event and its purpose.
Overall Vick was professional and truly accommodating which I appreciate.
I would highly recommend Vick for your next event.
Everyone here at Oracle Thanks You Vick for a GREAT TIME
Elyse M.
March 8, 2013





"Illusions by Vick made my daughter's birthday party an absolute success!
Vick is extremely professional, personable, and very talented.
His performance was not your run of the mill magician variety and he has a great look.
He combined story and illusion and performed tricks we had not seen before,
which made his show enjoyable by all.
We had about 40 people at the party, ranging in age from 4 through 74
and everyone loved his show, especially when he involved not only
our birthday girl in his illusions, but several adults as well.
We also appreciated his communication before the show
to learn about what interests our daughter has and what she might like to see."
Meridith T.
September 22, 2012




"Highly recommended, excellent entertainer!
From the beginning to the end - from the clear and well-organized WEB site,
to detailed and helpful emails and communication during the show organization period's back and forth,
to the impeccable appearance, to the classy yet lively and witty performance,
to the impressive tricks, to the perfect demeanor - the experience has been an A+ throughout.
Vick is a gem; highly, highly recommended.
(Ours was a house-based 50th birthday party for about 35 guests
and Vick accommodated and delivered beyond expectations.
One hint: make sure you discuss all details of your occasion with him
- his vast experience allows him to offer most helpful suggestions on setting the show up,
and incorporating it into the party's flow
- for us his gift presentation suggestion even influenced the selection of the gift)."
Eugene & Katherine
Potomac, Maryland
March 2, 2012




Vick, was just awesome! The whole day went very well.
He took his time setting up and showed an enormous amount of patience with
the small people that were there. He took the time to answer
their questions both before and after his show.
The best part of his service was his ability to put a personal touch on
each illusion her performed. My daughter, the birthday girl, believes the show
was built around her needs, and they were. Vick kept his audience attention from
the beginning to the end. There was at least 50 people there and probably 90
degrees and he kept his cool and pulled off the show without a hitch.
My hat off to him. If there is ever a time I need another magic act I will
not hesitate to call him. Just wonderful. His show lasted almost an hour.
Vick Gisin is a professional with one of the biggest hearts I have ever seen.
He put his whole self into the planning of our show. Just amazing.
Sharon D.
September 6, 2013




Vick was AMAZING! He was very professional in every way.
He responded very quickly to all of my emails, arrived on time,
appearance is professional and had a wonderful variety of illusions he presented.
Using the audience in part of his show always makes for great laughs too!
Everyone LOVED him! I would HIGHLY recommend him.
We had an all adult audience and his presentation was perfect!
Lori P.
January 12, 2013





What a wonderful person to deal with, great performer and superb with the kids.
Vick performed at our Blue & Gold Banquet, and included Cub Scouting values
and the pledge seamlessly in his act. It was captivating, entertaining and impressive
for everyone there (kids and adults). Scheduling and communication was excellent.
Thank you Vick!
Richard D.
March 8, 2013





"Vick was very easy to work with from the start.
Very cordial, explained in detail what to expect,
and wanted to be sure he met our company's wishes.
His performance was amazing. Our employees are still talking about him.
It worked so well and I don't know how he does what he does.
He added a dimension of wonderment to our event. Simply great."
Kimberly F
ASEC
September 22, 2012




" ..... Your unique and dignified approach touched me in a way that most magicians don't.
The near macabre but lovely delivery of illusion you employ is almost Tim Burton-esque on the surface,
but simultaneously filled with so much heart that all of the departed classically trained magicians surely
must be looking over your shoulder each time you extract a sense of wonder in the wry smiles of your audience.
Thank you, Vick, for truly making my day special and bringing a true sense of wonder alive again in me."
Dave R.
Virginia
January 25, 2010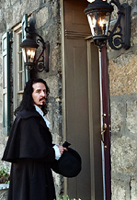 "He captivated the audience immediately!
A great personality and interacted with the residents wonderfully!
Would have him back and recommend to others.
Thanks Vick you made it an extra special day for our residents and families!!!!
Debi W.
McLean, Virginia
October 31, 2009




"I could not have asked for a better performer for our fundraiser.
Vick was simply outstanding - so good that we've already decided
to have him back again next year.
He is incredibly patient, amazingly talented,
and fantastically skilled at entertaining children and adults simultaneously.
Thanks, Vick, for a GREAT time!"
Susan C
Columbia, Maryland
May 14, 2010




"Vick, you were awesome!
I saw my boss grinning like a little kid.
Everyone was just delighted by your performance.
It made me look really good."
D. Lehman
Annapolis Yacht Club
June 14, 2011




"Vick went out of his way to learn about my company and about our products.
He then incorporated what he had learned into his act and illusions.
Vick was a joy to work with and I would recommend him for a trade show."
- John R.
Senior Vice President, Director Sales & Marketing
Navellier & Vireo Investments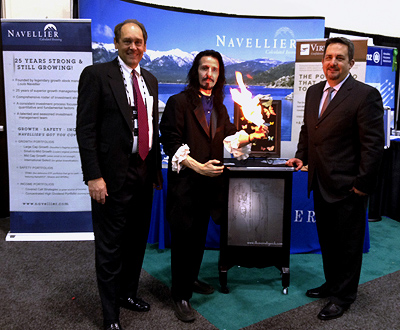 April 23 & 24, 2012
IMCA Trade Show, Washington, DC




"Vick was fantastic from start to finish.
He took great care to understand what we wanted from his performance.
He performed during our holiday party in front of about 30 guests and our 5 year old son.
The performance was very polished
and he included a few tricks especially for our son
who was absolutely entranced by the experience.
He stayed on afterwards to allow people to ask questions and did some close up magic.
Our guests were very impressed and this is testimony to Vick's talent and professionalism.
I would heartily recommend Vick's performance."
-Joe W,
Reston, VA
December 4, 2010



"Dear Vick,
It was our pleasure to have you here,
and I will definitely be recommending you to my colleagues at other libraries!
Successful programming is a two-way street, and you certainly did your share by arriving early,
being prepared, and radiating calm. I appreciated that!
Thanks again for a wonderful show--
I have heard nothing but positive comments from the parents and kids who attended,
People really enjoyed your show, and the mysterious, magical mood you created.
There was something for everyone, and you tailored your show to suit the audience.
So thanks again for a magical afternoon (the bubbles were my favorite part!),
and I hope we can have you back at Damascus in the future.
Cordially,
Amy A."
Head of Children's Services Damascus Library
Damascus, MD
July 20, 2011



"Adults enjoyed the show just as much as did the children.
Vick patiently waited until all of the guests arrived and communicated his intentions very well.
He understands, gains, and maintains the focus and attention of the minds of children,
as well as kept them all entertained, and participating in the show, a challenging task in itself.
He is a gentleman and a scholar in performance arts and illusion, and you can see he takes pride
in putting on a special performance no matter where he takes the stage.
A most versatile, accommodating, and pleasant entertainer who I will ever have had the pleasure to meet.
You cant go wrong with this performer!"
Clint R.
Sterling, VA
August 20, 2011



"Everyone had such a good time with you.
You created a perfect blend of illusions
and we were all having such fun that the time flew by.
You really crafted your act to match the size and character of the audience.
Plus, you arrived on time, were absolutely game for anything,
and did such a great job entertaining.
Eric N.
Washington DC,
June 1, 2009




"..... Just to let you know, everyone really enjoyed your show! 
Thank you for your help in making Rich's 50th birthday a memorable event.
I will surely recommend you and your talents."
Angela P.
Baltimore, Maryland
May 21, 2009




"Hi Vick,
What a magnificent display of illusion and magical artistry you displayed
at Julianna's birthday party last week!
Everyone marveled at your show!
Thank you for entertaining us and for sharing your talent with us.
You added a spark to the fond memories we'll cherish from Julianna's birthday party!
With appreciation,
C. Kelley
Fulton, Maryland
October 2, 2010




".... Have to tell you that as a magician I enjoyed you very, very much.
I think you are a very clever magician that presents his stuff in a clear and original manner.
A breath of fresh air.
I wish you all the best, and the fortune you most certainly deserve.
May the magic be with you!
Sincerely, "
Mariano Z
Lithia Springs, Georgia
January 18, 2010




"Dear Professor Snape
A.K.A. Vick Gisin,
Thank you, Professor Snape for performing your magic at Howard County Library,
More Muggle Midnight Madness was a hit with over 650 attendees
Everyone was impressed with Professor Snape and his feats of magic.
They raved about how realistic the evening was and their encounters
with you only made them feel more like a part of Hogwarts.
Everyone was asking about Professor Snape and his true identity
Thank you for your time and dedication helping to make this evening a success.
We look forward to your future magic show at various Howard County Library Branches this fall
Sincerely,"
Cari G
July 20, 2007
Head of Children's and Teen Educational Programs.
Howard County Libraries




" I just wanted to thank you for being at our prom.
We all had an absolutely amazing night and your performances
made it especially memorable and unique for everyone.
You were awesome and it was such an honor to be able to enjoy your talents there,
our class will never forget it!
We were all so incredibly impressed
and would not hesitate to recommend you for future events at NDP.
Thank you again!"
Nadia and the Class of 2010
Notre Dame Prep School
April 24, 2010




"..... a birthday party for the 80 year old patriarch of the family.
Vick personalized his performance to the event in our home.
It was a wonderful evening with a very talented and gracious performer.
I expect we will have him back again.
-Peter O
November 13, 2010
Dover, DE




"Vick is a excellent performer who is a joy to watch.
The performance was eye catching.
Lots & lots of compliments from all attendees of the party.
Can't wait to see the next adventure- Vick is GREAT!"
Melissa
Baltimore, Maryland
October 4, 2008



"Vick,
Pack 76 would like to express their sincere thanks for making our event truly memorable!
It was a hit!!
The kids loved you and the parents were so impressed, they were asking if you do birthday parties!
Your showmanship truly kept all ages of the audience in suspense and amazement.
Your special cub scout emphasis to the show made it a perfect start to our Blue and Gold Ceremony.
Thank you so very much. It has certainly been pleasure to work with you and
I will definitely recommend you to other Packs.
PS. It was truly heartwarming to see one of my little bear scouts
really take a shine to you. He rarely ever reaches out to anyone
and he was extremely inspired by you.
Sincerely,
Gail W."
Pack 76
March 4, 2012



"Dear Vick:
Just wanted to thank you again for a wonderful program today.
Everyone enjoyed it and we were ALL equally amazed at the things you did. 
I hope to have you back at Indian Creek in the future. 
Thanks again!"
Stacey
Crownsville, Maryland
October 30, 2009




"I have never heard so many positive comments about the entertainment
chosen for our annual cub scout Blue/Gold dinner as this year
when Vick performed for 100 or more wide eyed scouts.
Both kids and parents were amazed by the magic!
In addition, we were all impressed by the way Vick incorporated
scouting values and the 100th Birthday of scouting into the program.
I would highly recommend this Magician for any event."
P. Johnson Pack 688
February 21, 2010





"I heard from many who thoroughly enjoyed the presentation and clearly had a great time.
Many were talking about the Sorcerer's Apprentice long after you'd gone.
I think everyone appreciated the fact that you asked the Scouts to rise to your level
rather than talking down to them. Also, kudos to you for handling this active bunch so well."
Karen C.
Bethesda, Maryland
May 1, 2009



"Thanks so much for the great job this afternoon,
all of the kids loved the performance!
We especially appreciate you adjusting your tricks so that they were age appropriate,
and the timing was just right.
The other teachers all had glowing remarks about your performance as well.
You were a hit!
Thanks again for taking time to entertain our classes ...."
Lauren B.
Hollifield Elementary School
October 21, 2007




"This was a 98th birthday party in a retirement home with an audience of approximately 40, of varied ages.
Punctual and communicative as if it were a military operation.
All was in readiness...no surprises.
Complete ease with his illusions and audience enabled a "wow" growing from illusion to illusion.
Got the audience involved up front and kept them glued to his activity.
Not only would hire him again but easily recommend him to anyone else = BRAVO.
btw, I'd rate Vick Gisin a 6 out of 5 for rapport and ease and communication with the client."
Lawrence C.
Falls Church, Virginia
January 30, 2011




"His performance was spectacular and mind racking.
I loved every bit of It!!!!!!"
Javon B,
Aberdeen, Maryland
February 7, 2009




"Vick was fabulous!
He made my son's Harry Potter party a truly memorable event.
I can't rave about him enough!"
Donna R,
Media, Pennsylvania
November 1, 2008




"He's my favorite magician"
Sebastian G
.


p.s. He's my Daddy







Recent Partial Client & Venues List Includes:
Bally's Atlantic City,
D.A.R. Constitution Hall,
DoD (Department of Defense),
Mercedes Benz,
The British Embassy,
Oracle,
Goucher College,
Aloft Hotels,
PM Hospitality Strategies, Inc,
Renaissance Baltimore Harborplace Hotel,
Baltimore Harborplace Amphitheater,
World Recycle Battery Trade Association,
Alliance Française,
Comcast/Xfinity,
B & O Railroad Museum,
Herndon Festival,
Cox Farms "Fields of Fear",
Sunrise of Mclean,
Sunrise of Rockville,
Beth Tfiloh,
JCC of Northern Virginia
Southern Maryland Hospital Center,
The Department of Neurology at John Hopkins,
The Harmon Center for the Arts,
Hillwood Museum,
University of Maryland
Towson University,
Magooby's Joke House,
Symphony Orchestra of Arlington,
Colonial Beach Rock N Blues Festival
Reisterstown Lions Club,
20s & 30s Going Out Group,
Howard County Public Libraries,
Howard County Public Schools,
Carroll County Public Schools,
Montgomery County Public Libraries,
Baltimore County Public Schools,
Richmond Children's Hospital,
Blue & Gold Banquets,
Advertising.com,
Rite Aid,
Toys R Us,
The National Zoo,
and Mechanical Contractors Association of Maryland
among with many others






Site Navigation








PROUD MEMBER OF THE
I HAVE NEVER WORN A SEQUINED VEST COALITION














Illusions By Vick's Links




Site Navigation